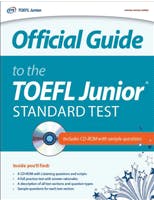 Official Guide to the TOEFL Junior Standard test
Suitable for the TOEFL Junior Standard test
About the book
By preparing for the test, English-language learners will improve their communication skills and further their English-language studies. It includes:
An introduction to the TOEFL Junior Standard test with specifics about the format of the corresponding test section as well as general information about the passages and questions covered in the chapter.
Question types and analysis part of the chapter that classifies the test questions into different types and discusses strategies for how best to answer each question type.                              
Basic strategies part of the chapter that suggests tips and skills that will help learners prepare for the test.
A sample test with which learners can apply what they have learned about the different question types by doing the sample questions on their own.
A complete TOEFL Junior Standard Test practice test which can be used to become more familiar with the overall structure of the test. Answers can be checked against the provided answers rationales to better understand why only one answer is the correct one.
An audio files for the sample test at the end of the Listening section, as well as audio files for the full practice test at the end of the book.
Additional Information
ISBN: 779638
Edition: 1st Edition
Book Author: ETS
Publisher: 2014 Educational Testing Service
Number of pages: 148