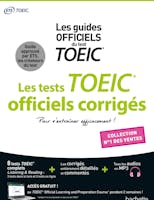 Les tests TOEIC officiels corrigés
Suitable for the TOEIC® Listening and Reading test
About the book
Optimise your preparation by practicing with official TOEIC Listening and Reading sample tests. Approved by ETS, this book includes several components:
Two official, updated TOEIC® Listening and Reading practice tests as introduced in France in June 2018, with:
a detailed explanation of changes in the updated test;
correction grids to interpret TOEIC test scores;
all audio files for the Listening Part on CD and downloadable in MP3 format including American, British, Australian and Canadian accents.
The book as detailed and annotated answers including:
grids with the correct answers for each practice test;
transcriptions and translations of all texts and questions in the Listening Part;
vocabulary reminders and useful expressions.
Online users can:
download or stream audio files for the two practice tests;
get additional answer grids to be completed;
enjoy 14 days of free personal access to the TOEIC® Official Learning and Preparation Course, with five full TOEIC® Listening and Reading practice tests.
Additional Information
ISBN: 9782017183815
Edition: 1st edition
Author: ETS
Publisher: Hachette Edition
Book release date: June 22, 2022
Number of pages: 304