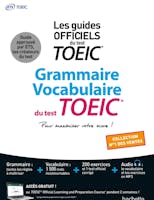 Grammaire Vocabulaire du test TOEIC
Suitable for the TOEIC Listening and Reading test
About the book
A two-part book for revision and training on grammar points to master and vocabulary you need to know to maximise your TOEIC® test score. It includes 24 grammar chapters as well as 34 vocabulary topics with more than 1,500 key words covering all areas of English as seen on the test. It includes:
grammar rules explained and supported by examples with translation;
numerous written and audio exercises;
official TOEIC® test samples provided by ETS;
tips and advice from the trainers;
complete answers to all training exercises and samples from the official test;
English vocabulary for professional everyday purposes covered in the test alongside in-context examples and other words from the same family, plus French translations of all vocabulary, examples and derivatives;
four vocabulary exercises for each theme given in the real test format;
audio files downloadable in MP3 format;
complete answers to all vocabulary exercises and extracts from the official test.
Additional Information
ISBN: 9782017183792
Authors: Cassandra Harvey and Danuta Langner
Publisher: Hachette Edition
Book release date: June 22, 2022
Number of pages: 384