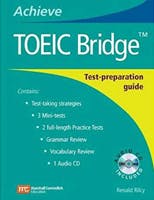 Suitable for the TOEIC Bridge test
About the book
The book and its accompanying CD-ROM may be used for classroom-based preparation or self-study. It suggests strategies to build the skills necessary to answer the test questions successfully and improve overall English language proficiency. It includes:
A general overview of the test's format.
2 step-by-step Study Plans showing how to use the book for either quick or in-depth test preparation.
A "Diagnostic" Mini-Test (35 sample questions) to help candidates learn how the test works and determine the areas where further study is needed.
5 chapters with "Test-Taking Strategies", with specific guidelines, easy-to-follow study tips, clear examples with explanations and practice exercises.
2 additional Mini-tests (20 questions each) reviewing the skills learnt in the "Test-taking Strategies" chapters.
2 full-length Practice Tests in the TOEIC Bridge® format (100 questions each).
A Grammar Review File with explanations, examples, and test-format exercises.
A Vocabulary Review File with test-format exercises.
A complete Appendix featuring answer keys, explanatory answers, and scripts for all the exercises and tests.
An audio CD containing all the listening material in the book and featuring the voices of several native English speakers.
Additional Information
ISBN: 0462004457
ISBN 13: 0462004457
Edition: 1st Edition
Book Author: Renald Rilcy
Publisher: 2008 Marshall Cavendish
Number of pages: 340