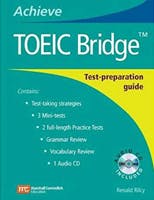 Suitable for the TOEIC Bridge® test
About the book
The book and its accompanying CD-ROM can be used for classroom-based preparation or personal study. They offer strategies to build the skills necessary to answer the test questions successfully and improve overall English language proficiency. They include:
a general overview of the test's format;
two step-by-step study plans showing how to use the book for either quick or in-depth test preparation;
a diagnostic Mini-Test (35 sample questions) to help candidates learn how the test works and determine the areas where further study is needed;
five chapters with test-taking strategies, including specific guidelines, easy-to-follow study tips, clear examples with explanations and practice exercises;
two additional mini-tests (20 questions each) reviewing the skills learnt in the test-taking strategies" chapters;
two full-length Practice Tests in the TOEIC Bridge® format (100 questions each);
a Grammar Review File with explanations, examples, and test-format exercises;
a Vocabulary Review File with test-format exercises;
a complete Appendix featuring answer keys, explanatory answers, and scripts for all the exercises and tests;
an audio CD containing all the listening material in the book and featuring the voices of several native English speakers.
Additional Information
ISBN: 0462004457
ISBN 13: 0462004457
Edition: 1st Edition
Author: Renald Rilcy
Publisher: 2008 Marshall Cavendish
Number of pages: 340