News
ETS Global Signs First CMD Agreement in Turkey
June 2018 - ETS Global B.V. has signed a Country Master Distributor agreement in Turkey
The agreement has been signed with Okul Yayın DanışmanlıkA.Ş, who has been our non-exclusive partner for the TOEFL® Young Students Series products since 2014.
Okul Yayın Danışmanlık A.Ş. is a company bringing educators, assessment providers and software entrepreneurs together to contribute to the achievement of educational goals set by educational institutions in Turkey by promoting the proper use of assessments and improving the user experience. Okul Yayın Danışmanlık A.Ş. provides institutional assessments and consultancy solutions based on global standards to improve the quality of English language teaching and learning across Turkey.
The main focus of the agreement is for the partner to continue to offer the TOEFL Primary® tests and the TOEFL Junior® tests to even more academic institutions, especially private school chains. Main success factors towards the schools, besides the ETS brand and the notoriety of the local partner, are the ability of localizing institutional reports, enabling quick score turnaround and implementing onsite institutional computer-delivered testing for speaking skills.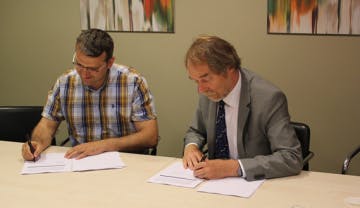 From left to right: Remzi Canarslan, Managing Director of Okul Yayin Danismanlik A.Ş. ; Gerben van Lent, Executive Director, Strategy and Business Growth of ETS Global
We are excited and are convinced that our continued collaboration promises to bring ETS Global substantial market share, particularly for tier 1 private school chains