Understanding TOEFL iBT and TOEFL ITP tests scores
What do your TOEFL scores mean?
TOEFL® assessments help you stand out from other applicants and get noticed. More than 10,000 universities and institutions in over 150 countries accept TOEFL® scores. Organisations such as businesses and immigration departments rely on TOEFL results to issue residential visas, work visas, medical licenses and professional certifications, or simply to measure individuals' English language learning progress.
TOEFL iBT Test Score Overview
There are no pass or fail TOEFL marks. To receive an official score on the TOEFL iBT test, you must answer at least one question from both the Reading and Listening sections. You must write at least one essay and complete at least one Speaking task. For the TOEFL iBT test, which is administered online, you will receive 4 scaled section scores and a total score:
Reading section: 0-30
Listening section: 0-30
Speaking section: 0-30
Writing section: 0-30
Total score: 0-120
In addition to your scores, your test taker report will include performance feedback. This provides a description of the kinds of tasks that test takers within the reported score range can do. MyBest® Score feature combines test-takers' best scores for each section from all of their valid TOEFL iBT scores in the last two years. MyBest® scores give test takers a way to show their best overall test performance.
How long does it take to receive your test scores?
TOEFL iBT at a test center: 6 days after your test date
TOEFL iBT Home Edition: 6 – 10 days after your test date
TOEFL iBT Paper Edition: 11 – 13 days after your test date
The new version of the TOEFL iBT® test
As of July 26, 2023, the world's most respected and accepted English language test will take just under 2 hours to complete.
Click here to find out about the improvements to the TOEFL iBT test!
TOEFL ITP Test Score Overview
TOEFL ITP tests are scored locally, and both overall and section scores are reported to the institution. Score segmentation provides greater insight into which specific skills need improvement. All TOEFL ITP score reports include:
Individual information for your programme to distribute to students
Institutional information and a score roster for internal use only
Individually scored sections to help you determine which English skills need more work and tailor learning activities to the needs of each student.
To help you interpret TOEFL results, a Common European Framework of Reference of Languages (CEFR) mapping study was conducted, as well as a score descriptor study. The results of the mapping study provide the minimum TOEFL ITP section score for four levels, as defined in the CEFR (A2 to C1).
TOEFL ITP Test Level 1
The new mapping table between scores and the CEFR scale, effective from 5 June 2023.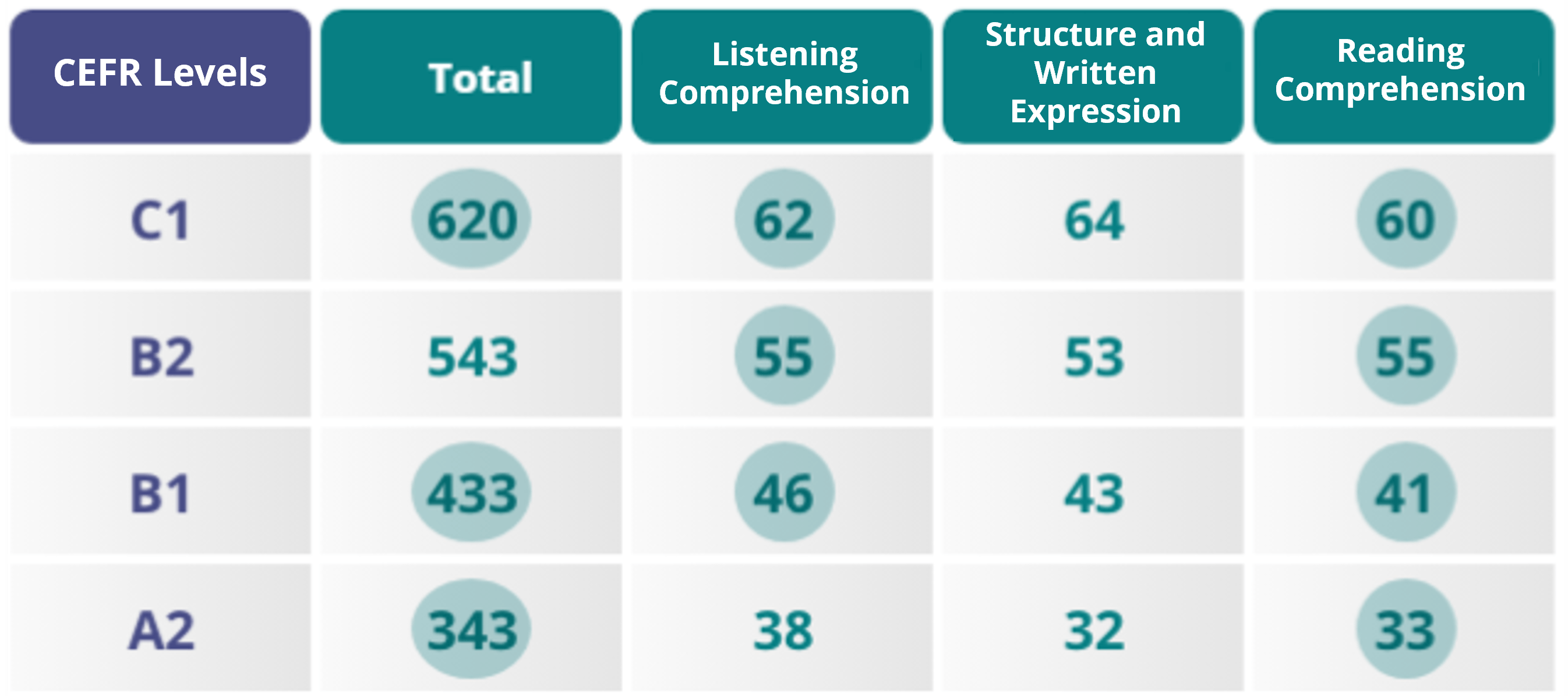 TOEFL ITP Test Level 2
The new mapping table between scores and the CEFR scale, effective from 5 June 2023.

TOEFL Essentials Score Overview
The TOEFL Essentials score scale is based on a 1-12 scale for each section, with 12 being the highest achievable band score. The total score will reflect the average of the four section scores, rounded to the nearest half band.
Listening: 1 – 12
Reading: 1 – 12
Writing: 1 – 12
Speaking: 1 – 12
Total score: 1 – 12
Your unofficial scores for the Listening and Reading sections can be viewed immediately after your test! Your official scores will be ready 6 days after your test date. Your scores will be published in your ETS account.
Score Validity
Scores are used to measure a test taker's English proficiency at the time that a test is administered.
Due to rapid development of English proficiency by younger learners, ETS recommends that scores are not used beyond 1 year. Scores can be considered valid beyond 1 year if the student has provided evidence of having maintained the same level of English language learning.