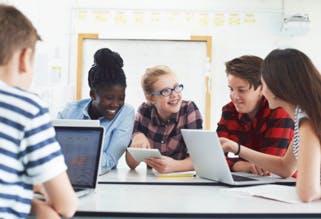 The TOEFL Junior® English Learning Center - 12 months licence
Suitable for the TOEFL Junior® test
Age: 11+
Validity: 12 months
Once the order is placed, login codes will be delivered by email within two working days
Activities are iPad compatible
What you will find in this module
Designed to enhance the English-language skills of students' aged 11 and older, the TOEFL Junior® English Learning Center offers interactive and engaging activities through a subscription-based online programme. It features eight theme-based units with approximately 20 total hours of learning material and cover learning objectives common to a wide range of learning curricula. The activities:
focus on building reading, writing, listening and speaking skills as they are used in the real world;
incorporate needed subskills, such as skimming, scanning and making inferences;
accelerate language acquisition with visual and audio prompts and cues;
support communicative language teaching and learning with activities relevant to real-world English-language usage.
Software Requirements
Windows Vista / 7 / 8 Desktop mode (32 or 64 bit)
Internet Explorer 9.0 or higher
Google Chrome 20 or higher
Mozilla Firefox 17 or higher
Flash Player 9 or higher
Hardware Requirements
Pentium® II or higher
1GB of free available system RAM (or at least OS required minimum)
200 MB of available disk space
Sound card
Network card
Computer must meet Operating System's minimum requirements
Headphones or speakers
Microphone