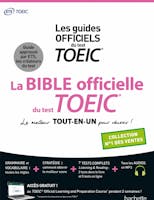 La Bible officielle du test TOEIC
Suitable for the TOEIC Listening and Reading test
About the book
Designed in partnership with ETS, this book is fully compliant with the new TOEIC® test. This book is an all-in-one resource to prepare for the seven parts of the TOEIC Listening and Reading test. They include:
useful information about the test: zoom in on each part, difficulties and tips for success;
grammar rules and exercises to practice;
the essential vocabulary accompanied by exercises to memorize it (synonyms, word families...);
tips from experienced trainers to optimise your score;
two official sample tests with detailed and annotated answers.
Additional Information
ISBN: 9782017183808
Edition: 1st Edition
Authors: Cassandra Harvey, Sandra von Barany and Danuta Langner
Publisher: Hachette Education
Book publication: June 29, 2022
Number of pages: 624