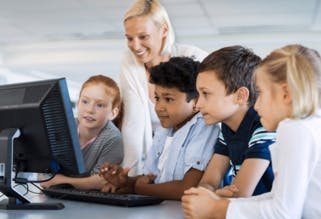 The TOEFL Primary® English Learning Center - 12 months licence
Suitable for the TOEFL Primary® Standard test
Age: 8+
Validity: 12 months
Once the order is placed, login codes will be delivered by email within two working days
Activities are iPad compatible
What you will find in this module
Designed to enhance the English-language skills of students aged 8 and older, the TOEFL Primary® English Learning Center offers interactive and engaging online activities through a subscription-based programme.
It includes eight theme-based units with approximately 20 total hours of learning material and allows each student to work at their own pace, completing online exercises and recorded practice tests.
The TOEFL Primary® English Learning Center reading, listening and speaking activities facilitate assessment for learning and are suitable for use in a classroom environment. The tool provides automated feedback for listening and reading activities, while a teacher is required to provide feedback for the speaking activities. Students can become familiar with the TOEFL Primary® Tests through practice questions. Teachers can monitor students' performance and provide feedback through the Teacher Management System.
The activities:
focus on building reading, listening and speaking skills;
accelerate language acquisition with visual and audio prompts and cues;
support communicative language teaching and learning with activities relevant to real-world English-language usage.
Software Requirements
Windows Vista / 7 / 8 Desktop mode (32 or 64 bit)
Internet Explorer 9.0 or higher
Google Chrome 20 or higher
Mozilla Firefox 17 or higher
Flash Player 9 or higher
Hardware Requirements:
Pentium® II or higher
1GB of free available system RAM (or at least OS required minimum)
200 MB of available disk space
Sound card
Network card
Computer must meet Operating System's minimum requirements
Headphones or speakers
Microphone