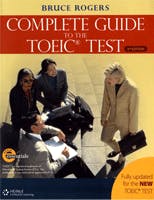 Complete Guide to the TOEIC Test
Suitable for the TOEIC Listening and Reading test
About the book
This revised edition of the Complete Guide to the TOEIC Test provides test takers with a clearly organised, step-by-step programme to maximise test scores. It includes:
Each lesson covers the seven parts of the updated TOEIC Listening and Reading test.
The Q&A section provides background information on the test plus a clear outline of the new test format.
"Eight Keys to Higher Scores" suggest ways to prepare for the test and give overall strategies to prepare for the TOEIC test.
An Audio Script and Answer Key booklet contains scripts for the listening material and answer keys for all the exercises and tests.
An Audio Programme uses a wide variety of accents included in the Listening section.
An updated 'Getting Started' section provides a detailed outline of the test.
Additional Information
ISBN: 1424099455
ISBN 13: 9781424099450
Edition: 3rd Edition
Book Author: Bruce Rogers
Publisher: Thomson
Number of pages: 335