News
The 2021 Barometer of French TOEIC Test Takers
A complete profile of test takers and their reasons for taking the test.
ETS Global is pleased to announce the results of the 2021 Barometer of French TOEIC® Listening and Reading test takers. What changes have occurred since the first Barometer was launched last year? Are test takers' profiles the same? Here are the main findings.
The typical test taker
In terms of gender balance, more men than women take the test (58% of test takers are men and 42% are women). Women, however, have higher average scores across all age categories.
Since 2018, the typical TOEIC test taker was between 21 and 25 years old (55% of test takers in 2018, 56% in 2019, 61% in 2020 and 2021). This year, more test takers are under 21 (24% of applicants).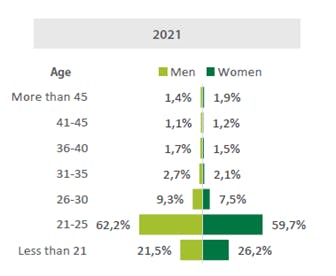 Engineering schools still lead scores with an average result of 796 (up 41 points in four years) and represent 29% of student programs.
Most test takers take the test in Ile-de-France (3 out of 10 participants). Since 2018, Ile-de-France and Brittany have been the two regions with the highest scores, but this year the Auvergne Rhône-Alpes region overtook them by a small margin (respectively 748, 748 and 750 in 2021).
This year, the Barometer also includes data from test takers throughout Europe for the first time.
Click here to learn more about changes in scores since 2018, test takers' reasons for taking the test, and to download the full study.