News
ETS Global sponsored the 3rd Annual Walk for Freedom
On October 15, 2016 the 'Walk for Freedom', a global initiative to raise awareness on the existence of human trafficking in our world today took place in Amsterdam and in 16 other Dutch cities with 1000 people participating in those.
Additionally, walks in 300 cities in more than 40 countries were organised. Its participants walked in a single-file line dressed in black with black tape across their mouths to represent those that have no voice.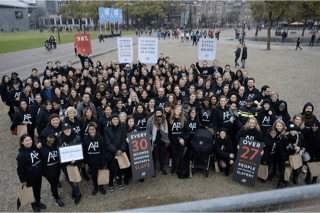 The centre of various capitals, big and small cities worldwide became the stage for creating awareness on the existence of modern day slavery, a multi-billion dollar industry and fastest growing criminal enterprise in the world. In addition to doing the walk, participants also raised funds for the survivors. The money raised will go to survivors' dental care, doctor's appointments, hygiene, clothes etc.
On October 15, millions of people worldwide were reached by handing out flyers, creating awareness on social media and by actually speaking to them during and after the walks.
ETS Global sponsored the 'Walk for Freedom' in Amsterdam and its support was announced by Dorien Lew, Netherlands Field Development Manager at A21, the organisation behind the walk that fights human trafficking worldwide.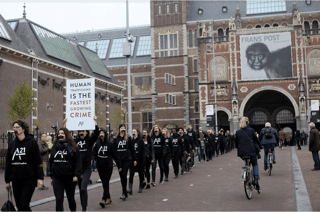 Precisely, after the walk, which ended at Amsterdam's famous Museumplein, ETS was mentioned as the key sponsor of the walk and each participant received a goodie bag that included ETS Global pens.