News
E-Learning Africa: the biggest educational event in Africa
ETS Global participated in the 14th edition of E-Learning Africa conference
An event where ETS Global has been participating since 2013 (apart from the 2017 edition). The conference was organised by ICWE GmbH and the Government of Ivory Coast under the overall theme "The Keys to the Future: Learnability and Employability".
Around 100 people visited our booth and we actively participated in the session Informal Methods for Language Learning with the presentation Achievement and Persistence in Developing Countries.
The aim of this presentation, based on data collected from blended courses taught over a period of three years in Peru by our partner Edusoft, was to present evidence on the potential of a national blended programme implemented in low-income developing countries by examining its impact on students' English learning outcomes.
We believe that this study can also apply to the African continent since some of the constraints found in this project, such as the digital gap between urban and rural, secluded areas, also exist in many African countries.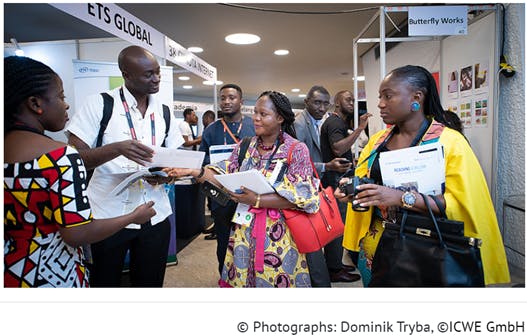 Most of the event's sessions reflected on the role of education in preparing Africans for the future and how it will have to change. Young Africans have to face challenges of rapidly increasing technological change and a 4th Industrial revolution. This is one of the reasons why ETS Global participates in such events, we want to make sure our assessment tools and English Learning and teaching solutions are considered by many institutions who work on this educational change.
Thanks to ICWE, for organising one more time, such a great event!