2021 Barometer TOEIC Test Taker
A complete study of TOEIC® Listening and Reading test takers
The 2021 Barometer of French TOEIC Listening and Reading Test Takers includes socio-demographic profiles, score evolution over time, and test takers' reasons for taking the test. The data draws on responses from 2018 through 2021 from test takers in both public and private institutional programs across France, including French overseas departments and territories.
Score evolution
In 2021, test takers' English proficiency results stabilised; the average TOEIC score of 733/990 is within one point of 2020's average score of 734/990. These results are equivalent to a B1 level, or "Independent User - Threshold Level," on the Common European Framework of Reference for Languages (CEFR).
Students have the highest average score with a score of 768/990, while test takers classified as employees have the lowest average score (612/990).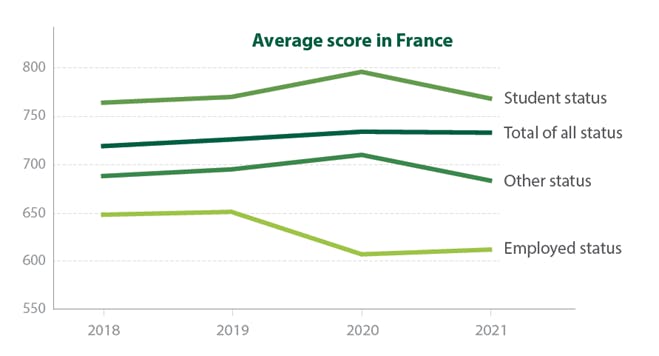 In this new edition, the average TOEIC Listening and Reading test in France score remains at B1 level, despite Covid, which may have complicated language learning. Given the high scores obtained by younger generations, I am convinced that they will be a driving force in increasing English language proficiency in France.
Reasons to take the TOEIC test
For more than two-thirds of test takers, the reason for taking the TOEIC test is primarily academic. 76% of candidates responded that they wanted to obtain a qualification.
Other reasons given include:
8% of test takers see the TOEIC test as an opportunity to assess their future educational needs;
7% choose the test to evaluate the effectiveness of a language course;
The last set of reasons relate to employment: 6% of test takers take the test for a job application and 4% for career advancement
These are all reasons to take an English certification to boost your academic or professional career with a globally recognised test.