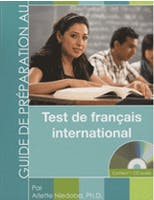 Guide de Préparation au test TFI
Suitable for the TFI test
About the book
The Guide allows you to practice either with the support of a language teacher or on your own, thanks to the detailed answers for each question. Whether you are a beginner, at intermediate level, or an advanced learner, you will find a variety of questions to suit your level of proficiency. It includes:
an audio CD for the Oral Comprehension section recorded with different voices and accents;
transcriptions of questions and conversations in the oral;
an assessment you can learn from with 100 questions along with explanations of the correct answers;
an evaluation report comprising 180 questions with the correct answers explained.
Additional Information
ISBN: 0986523205
ISBN 13: 9780986523205
Edition: 1st Edition
Author: Arlette Niedoba
Publisher: 2008 ETS Canada